Online booking tool for your business
The easy online booking tool you and your customers love.
Get started now!
Get started for free
No credit card information required
More bookings.

Less no-shows.
Vello is an online appointment app specifically designed for hairdressers, beauty salons, massage services but also for physiotherapists, osteopaths, fitness coaches, and gym clubs. Receive bookings and prepayments 24/7.
Safe bookings with GDPR compliant European booking tool.
Vello is the easiest booking calendar for you and your customers. The calendar looks pretty and is simple to use. Your customer data is safe with us.

Receive bookings 24/7 and collect prepayments from your customers. Let your customers book and pay online. Canceled appointments are available for rebooking in real-time.


Online booking for group events. Receive sign-ups for group events, appointments, and courses. The waiting list feature allows your customers to sign up to a queue for a fully booked event.

Vello is free for small entrepreneurs! Start using our booking tool for free. When you have one calendar, five services, and 50 customers, you can use Vello for free.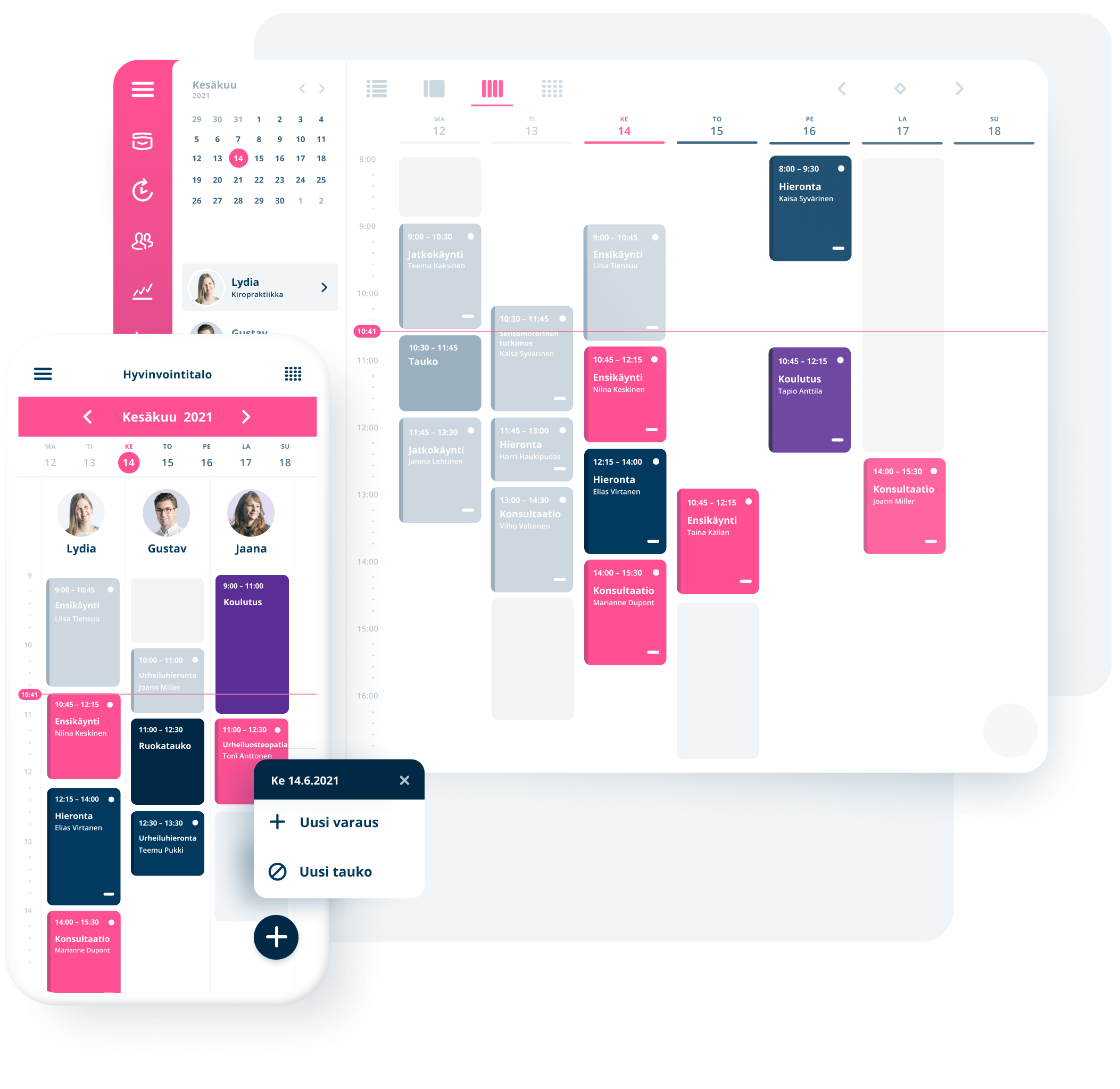 Coming soon: Marketplace

to showcase your business to consumers
Vello is used by over a million consumers. By using our booking tool, you obtain our consumer flow which means more visibility and more bookings to your business. Get committed customers and more cash flow with Vello!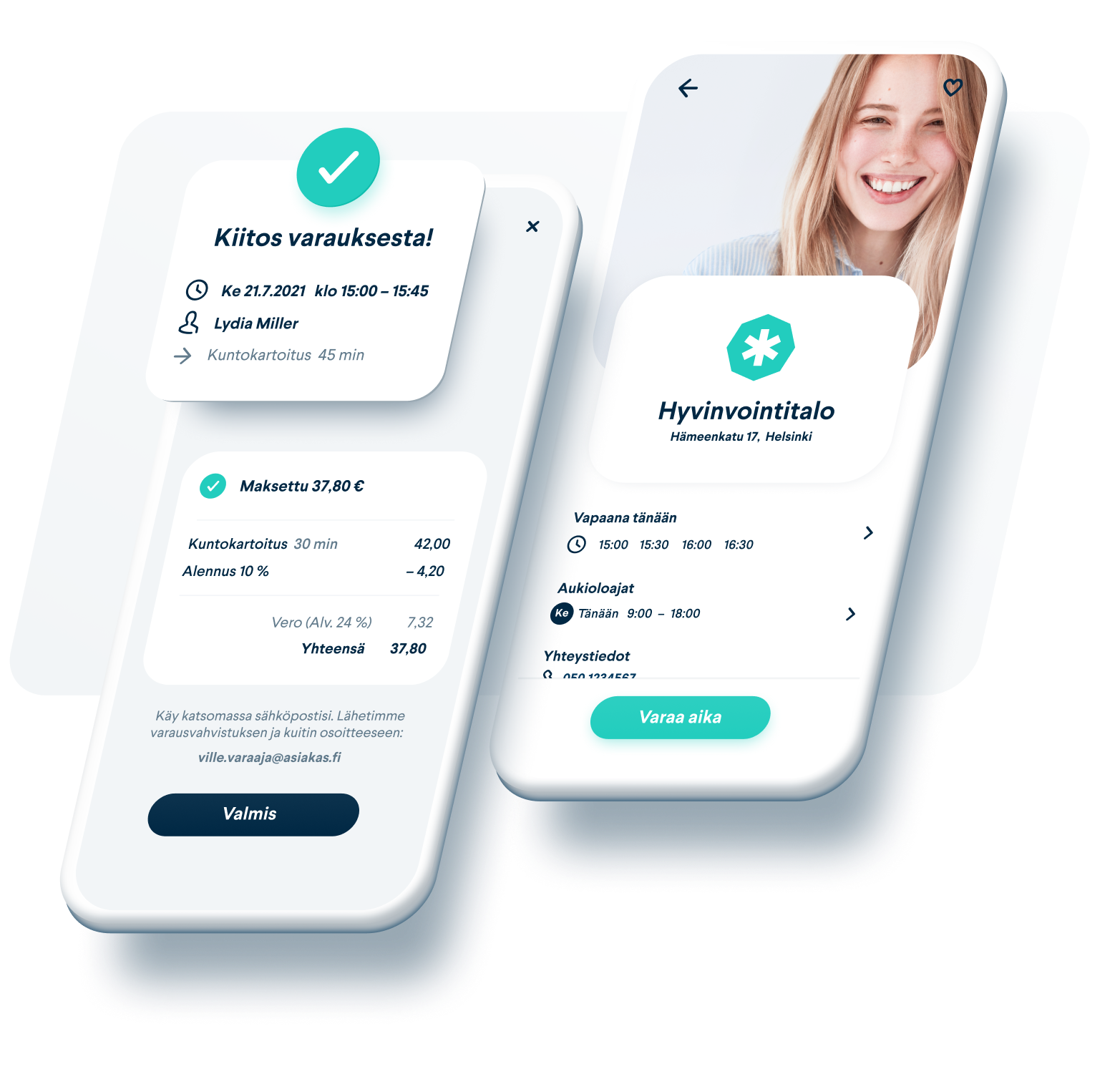 More cashflow. Vello brings customers to your business. Our brilliant way of combining marketing automation as a part of online booking will bring you 12% more bookings and sales.

Showcase your business to consumers for free. We offer you a free platform to find more potential customers.

Free marketing for your business. Save time and effort in marketing, we will do it for you.
Kenelle Vello sopii?
Vello sopii erinomaisesti mm. hyvinvoinnin, kauneudenhoidon sekä terveyden- ja kehonhuollon toimialoille.
Velloa käyttävät muun muassa hierojat, kauneudenhoitoalan yrittäjät, liikuntastudiot, urheiluseurat, personal trainerit sekä eri alojen terapeutit ja lääkärit - ja tuhannet muiden alojen yrittäjät. Vello sopii mainiosti myös tilojen varausten hallintaan.
" Varauksista peräti 90 % tulee nykyään Vellon kautta. Vellon avulla olen onnistunut tuplaamaan varauksieni kokonaismäärän! "
Menesty kanssamme
Tuhannet yritykset ja miljoonat kuluttajat käyttävät Velloa päivittäin. Tule menestymään kanssamme!
27 900
yrittäjää ja palveluntarjoajaa
2 M+
kuluttajaa ja loppuasiakasta
3 M+
ajanvarausta ja ryhmätuntia Vellon kautta joka kuukausi
21 M€
enemmän myyntiä yritysasiakkaillemme
Billing period
Save up to 35 %, when you choose 12 month billing cycle.
Free
£0
£0
£0
No monthly free
Online payments and gift cards
SMS (as an additional service)
Visibility on Vello's marketplace
Embed calendar into your website
Basic
£13
£9
£8
30 days free trial
Option to have multiple calendars
Unlimited amount of services
Unlimited amount of customers
Free support (by phone, chat and email)
Online payments and gift cards
SMS (as an additional service)
Visibility on Vello's marketplace
Embed calendar to your website
Premium
£18
£14
£12
30 days free trial
Option to have separate locations
Group events with waiting lists
Service filters for employees
Synchronization (Google and Outlook)
Over 10 employees or resources for booking? Contact our customer support to get an offer.
All the prices presented are Vello's monthly fees per calendar, employee, or bookable resource (f.e. space). The prices will be added with VAT.