Customer management
Customer management

app for small businesses
Build your customer database with Vello, it is automatic and easy. Client list updates with every new booking or change. Keep your customer details in a safe place which you can access with all of your devices whenever wherever.
Vello is a verified register for handling patient medical records in addition to customer data. Read more about Vello patient records.

Your client data is safe with us
Stay safe with data encryption on your and your client's data (SSL). Notice the lock icon or the URL address starting with "https" in your address bar whenever you use Vello, that means your data is safe.

Available on the free plan
No credit card is required. Vello is free for up to fifty customers, forever, with no strings attached!

Make it your own
In addition to the default data fields, you can also add customized fields that are important for your business.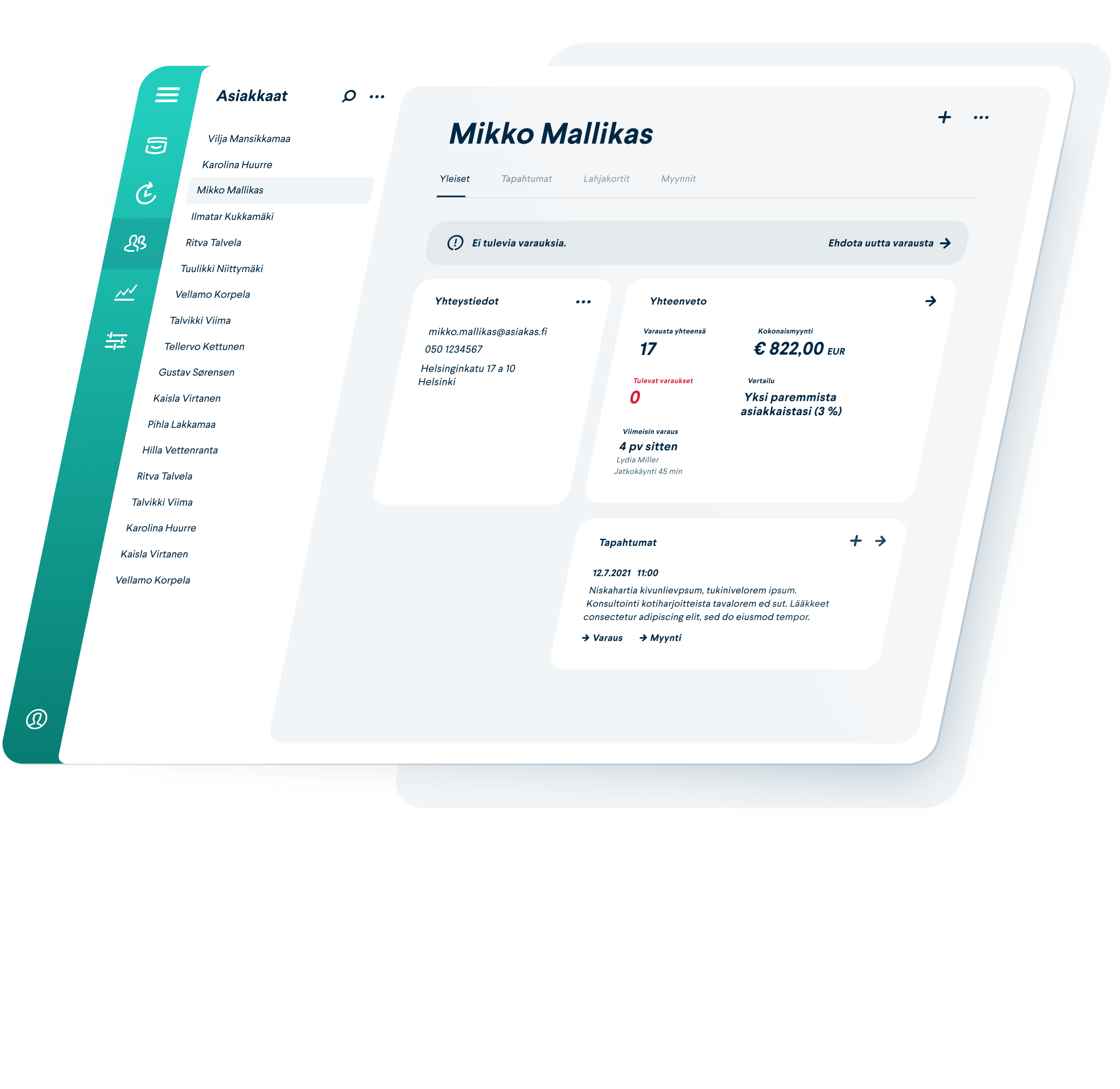 Membership management
Automate your membership fee collection and management.
Automate your entire membership management: from easy enrolment to membership fee collection.
Save your time and minimize any manual administration. Your own Vello membership register is available to you where ever you go. Check the realtime member status, payment history, all automatically updated.
The membership register integrates seamlessly to your Vello online booking or alternatively you can use the membership features on their own.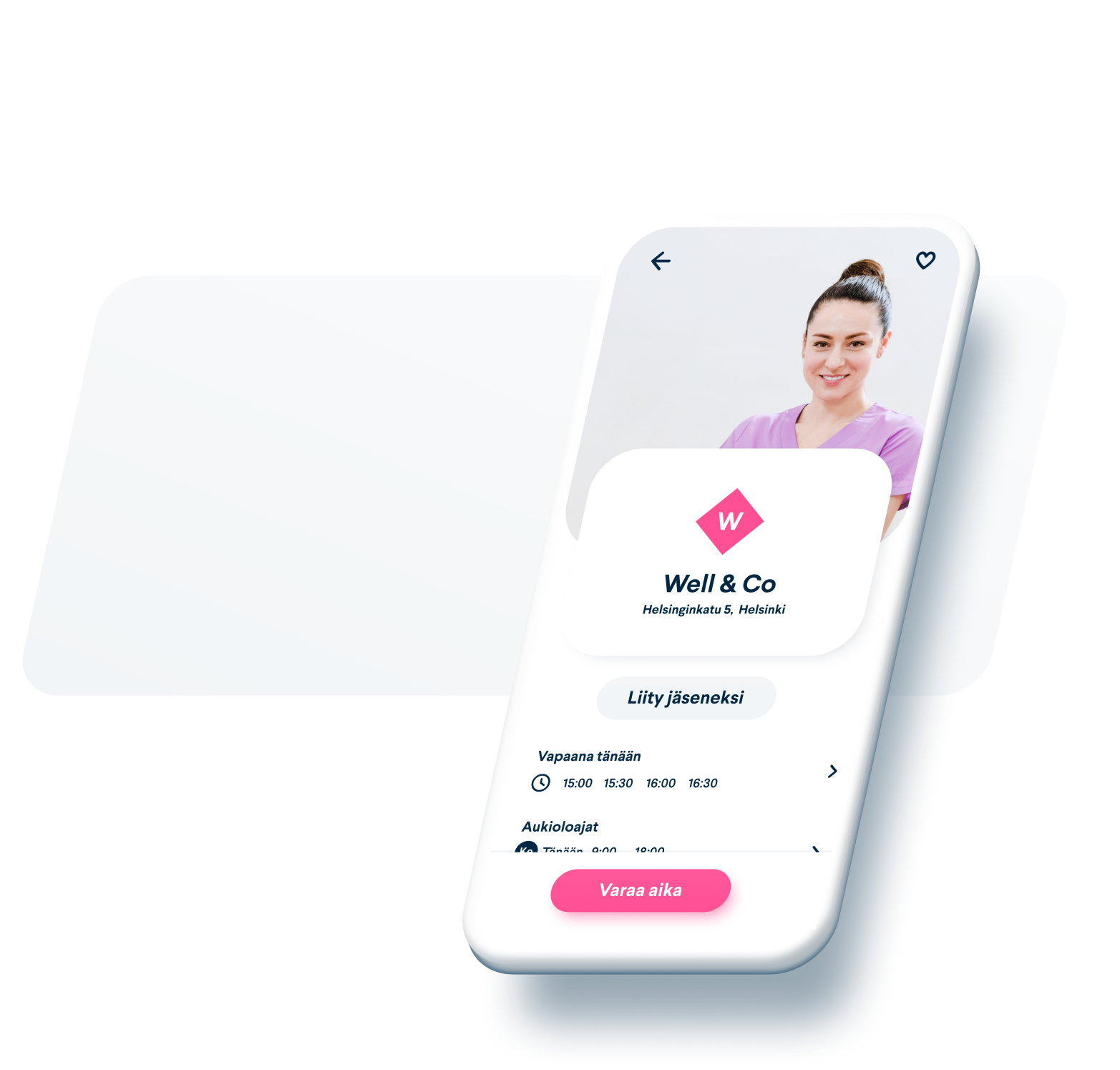 Up-to-date member information
Check the real-time number of your memberships at any time. Verify the state of each membership and the payment history of each customer.
Membership updates automatically
The state of your customer's membership (membership valid / not valid) is automatically updated to Vello's member register during the term of contract.
Recurring charges
Membership fees will be automatically charged from your customer's payment card. If the charge fails (e.g. not enough credit), the charge will be reattempted automatically in the next few days.
Customer register features and tools
For all the devices
Use Vello on any device: Windows, Mac, or any smart phone or tablet. Vello loves them all.
Realtime data
Vello is a genuine cloud service. Your customer register is always up to date and available without software installations or updates.
Basic details of your customer
The set of basic information covers the name, phone number, email and street address of the customer.
Notes and records
Add notes for each customer to help you remember their details and possible peculiarities.
Always up-to-date
The Vello customer register and online booking are seamlessly linked to each other. When adding a new booking, Vello automatically suggests the right customer for you and fills in the gaps as you go. New customers are added to the register.
Search and filters
In Vello, you can search and filter customers using one simple field. You'll find the customer you are looking for with any information added.
Booking history
The customer register also includes the booking history as well as all the upcoming bookings for each customer.
Access management
It is possible to grant individual access rights to each of your employees, and you can e.g. limit the reading and editing rights of your customers.
Alphabetical index
The customer register view lists all your customers in alphabetical order. You can sort them according to the customer's first or last name.
Reports & statistics
The reports cover the customer register where you can follow the customer base development, customer behavior, bookings and sales.
Customer blocked
Sometimes we need to deny the service from a customer. With Vello it is possible. Once blocked the customer can't make further appointments.
Gift cards
With Vello you can sell gift cards. Monitor and view all the customer gift cards in one convenient place.
Event records
With each appointment you can mark event specific notes. These notes are conveniently visible in the customer card.
Add customers
Despite all the automation, customers can also be added manually. It's quick. It's easy.
Customer export
If you need your customer data on a third-party service or for an additional backup, the export is one click away in Vello.