Invoicing software
Send invoices and
transfer bookings for invoicing
Vello Invoicing streamlines invoicing and appointment booking for healthcare providers with its cutting-edge module.
This tool allows companies and practitioners to easily manage invoicing and transfer bookings directly from Vello, ultimately saving time and effort while enhancing financial management.
As an employee, you have the flexibility to choose whether the invoice is sent to the customer or covered by insurance. Vello Billing empowers you to take control of your invoicing needs and optimize your workflow.


Automatic invoices
With Vello, crafting professional invoices is a breeze. Easily showcase your company's logo, contact information, reservation details, taxes, bank information, and payment terms. Plus, each invoice is automatically assigned a reference number for your convenience. Let Vello handle the paperwork, so you can focus on what you do best.
Is the insurance company or client paying?
Vello Invoicing streamlines your billing process by delivering invoices straight to your customers' inboxes. And if you need to invoice a third party, like an insurance company, we've got you covered. Simply select the designated invoicing customer, and we'll take care of the rest.
No monthly fee
Vello Invoicing is an invoicing program that is completely free of monthly fees. You only pay for the program when you use it: The use of the Vello Invoicing program is charged according to use, so that you only pay a 0.5 % commission on finalized invoices.
READY TO BE USED IMMEDIATELLY
You can use the invoicing right away.
Get started today!
Looking to streamline your billing process? Look no further than Vello! With Vello invoicing, you can seamlessly combine your billing and appointment needs. Plus, it's incredibly easy to use - you can send your first invoice in just one minute!
Take control of your bookings and decide which ones require advance payment and which ones can be invoiced later. Vello Invoicing is completely digital, so you can activate it independently and enjoy fast and efficient service.
Trust Vello to simplify your billing process and leave you with more time to focus on what really matters - your business.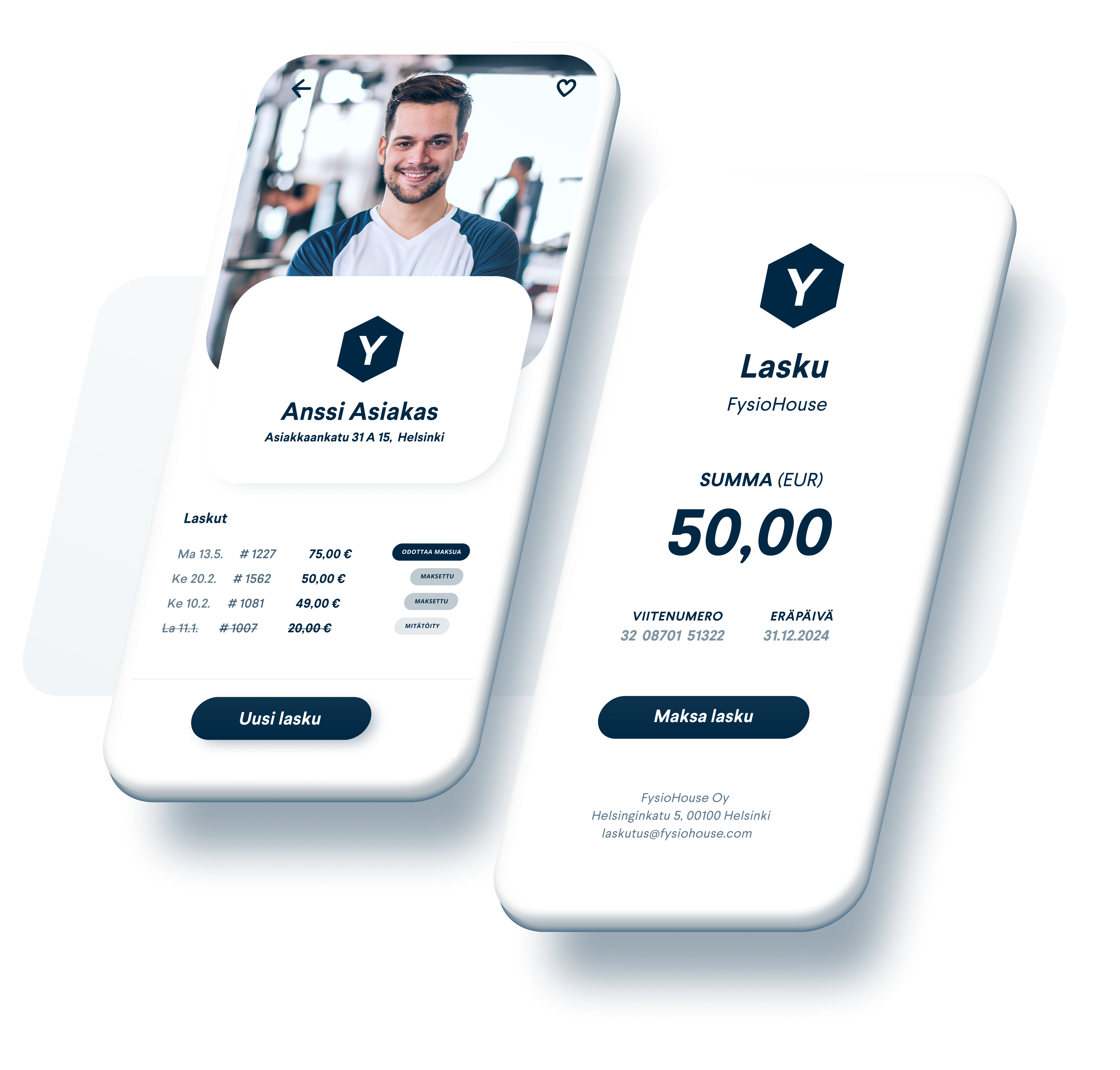 Payments directly to your bank account
Your invoice payments will be swiftly transferred to your bank account by your customers without any hassle. This means that you will receive your payments in record time, and in some cases, even in real-time!
All banks and bank accounts are approved
No matter where your banking loyalty lies or which bank account you want to receive payments, Vello welcomes all banks and bank accounts as payment recipients.
Accuracy and flawlessness
By automating the extraction of customer information, amounts, taxes, due dates, and reference numbers for invoices, human errors are significantly reduced. The added benefit is that automation not only makes things easier for you, but also for your customers.
All the features of Vello Invoicing
Customer-specific invoicing right
With Vello, you have the power to customize invoicing authorizations for each customer. This ensures that no bookings are mistakenly transferred to billing without a prior agreement with the customer.
Paid or unpaid
With Vello, you have complete transparency on each bookings' payment status - whether it's paid in advance online or an invoice is sent to the customer. Take control of your business by deciding which reservations should require online payment in advance.
Connected to online bookings
The ingenious digital invoicing system, seamlessly linked to the appointment, streamlines the transfer of visits to invoicing with just a click. Brilliant!
No registration required
In Vello, your customers can pay and receive invoices without mandatory registration in Vello. So the customer does not have to create a username or password to be your customer.
Billing history
With just a quick glance at the customer card, you can view the billing history of each invoicing customer. The card conveniently lists open, paid, canceled, and draft invoices for easy reference.
Reports
Vello Invoicing offers comprehensive reporting features that allow you to effortlessly track your sales. You also have the option to download your sales reports as a file to your device for further analysis. Stay on top of your business with ease!
Service-specific payment settings
With Vello, you have complete control over payment options, service by service. You get to decide which reservations require immediate payment upon booking, and which ones can be paid on the spot or at a later time with an invoice.
Consolidated invoices
Easily convert your unpaid bookings into one or multiple invoices for hassle-free payment. Our consolidated invoices provide a detailed breakdown of your invoiced visits.
Finalize and send
Once you create an invoice in Vello, it stays in draft mode until you're ready to hit send. During this time, feel free to add or delete invoice lines as you please. Keep your options open and your billing process smooth with Vello.
Automatic reference number
Each invoice generated by Vello comes with an accurately formatted reference number that makes payment assignment a breeze. With this unique identifier, you can easily match payments to their corresponding invoices, ensuring an efficient and hassle-free process.
Automatic due date
Once you've defined the payment terms for your customers in Vello, their invoices will automatically reflect those terms. The due date is seamlessly calculated from the provided terms, but if you need to make any tweaks, you have the flexibility to adjust the due date for each individual invoice.
Smart billing
Say goodbye to the frustration of double-billed bookings or missed invoices. Vello's advanced intelligence guarantees that every booking is invoiced accurately and only once.
We will be happy to tell you more

We will be happy to tell you more and help you choose the best payment method. If necessary, you can contact our customer service.