Online scheduling: Classes and group events
Automate
classes and group events
With Vello you get more participants to your classes and other group events. This means more revenue to you and better customer experience to your customers. With online registration, automated waiting lists and recurring bookings, you will gain even more participants to your classes and events.
Furthermore eliminate no-shows with Vello prepayments that are charged at the time of booking.
Vello classes and group events features are great for yoga studios, fitness classes, teaching, online classes or any other group events with multiple participants.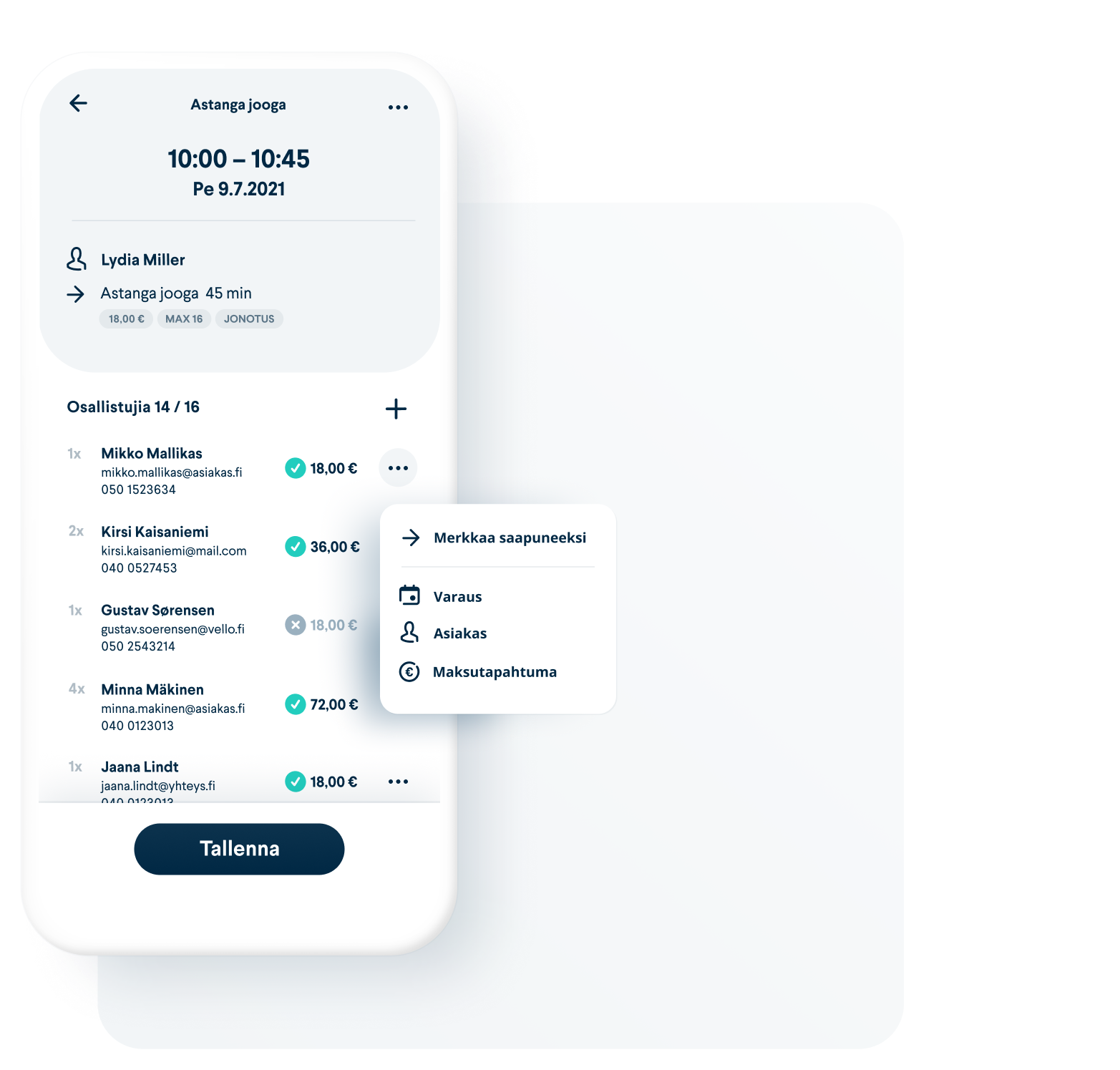 We bring you more customers
Millions of consumer customers already use Vello. When you get onboard Vello you will also onboard the amount of potential customers who are already using Vello. When you are visible where your customers already are, they will find you, and you will find them.
Save an hour a day
Your customers can book appointments independently with Vello, saving you approximately one hour of working time each day. When you also utilise the marketing automation tools, also the marketing automatically.
Get payments in record speed
On Vello your customer can pay the class or event electronically at the time of booking even outside the office hours. You will get the payment automatically to your own bank account. Your revenue is maximized while no-shows are minimized.
Virtual classes
Yoga, pilates and other fitness and health classes -
on location or virtually
With Vello you can publish face-to-face, on-location group events or remote and virtual events with hundreds of participants at the same time.
Remote classes and events are a safe way to invite a large number of participants around the world. Vello will send your participants the remote meeting invite-link automatically for you.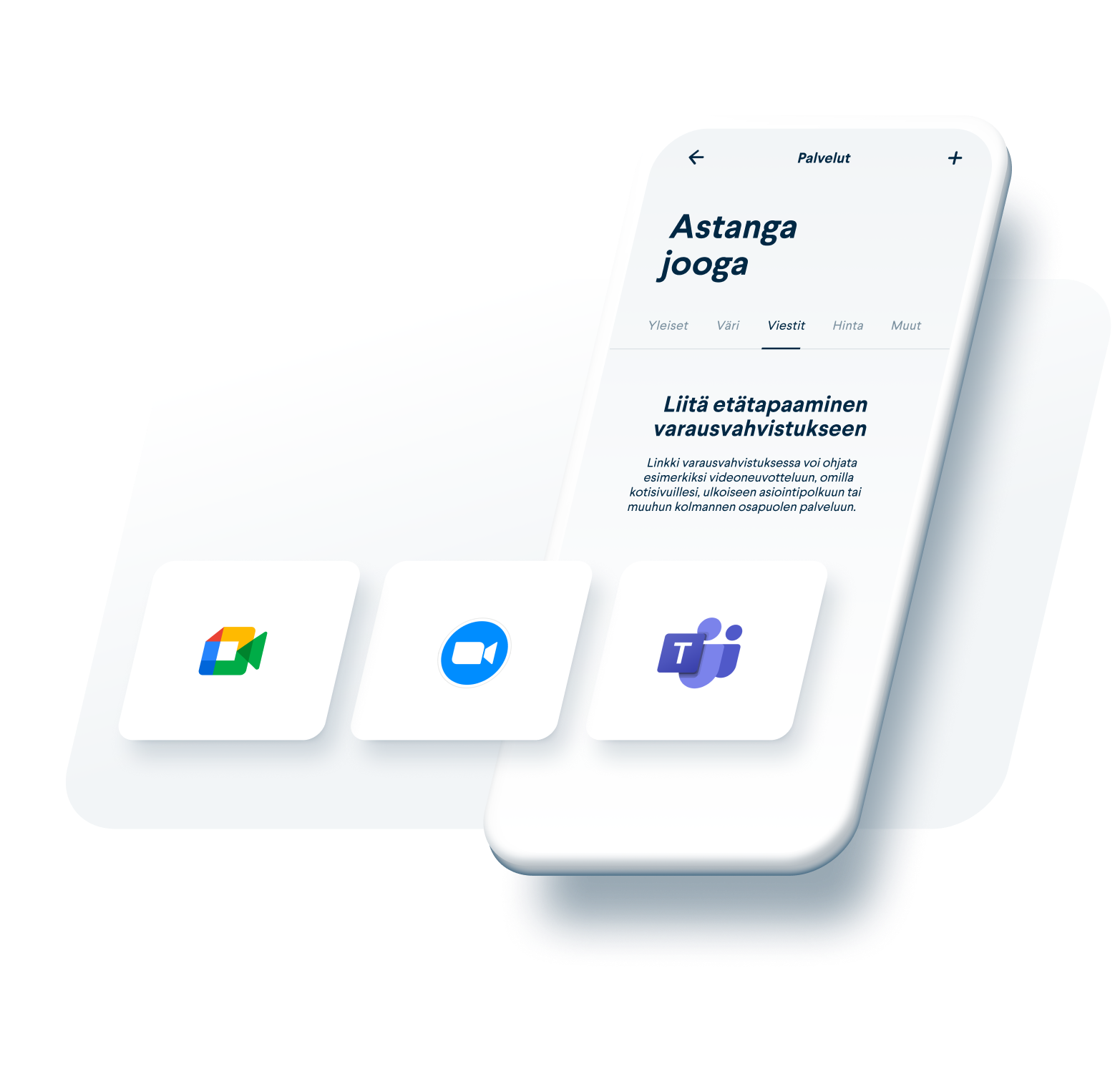 Automatic waiting list
With Vello waiting list you ensure that all your classes and events will be fully booked and the ones that joined also show up. Your customers can join on a waiting spot which will automatically be converted into a confirmed booking once a spot free up.
Recurring events and bookings
Do you have seasonal events, are your group events or a customer booking recurring? You will save even more time when you let Vello manage recurring calendar entries for you. Your customers can join all events of the season on one click.
Automated billing for your loyal customers
With Vello memberships you can also sell monthly or annual memberships to your loyal customers. Automate the payment collection of your members and keep your membership register in order. You will get as much as 25 % more members when they are allowed to join 24/7.
All class an group event features
Embed to your own website
You can easily embed Vello appointment booking on your website. We will provide you with the complete code and instructions to guarantee your success.
For all devices
Vello is a cloud services and available always anywhere you go with any device: Windows, Mac or any modern phone or tablet. Vello loves them all.
Your cancelled appointments become immediately available
Cancelled appointments become immediately available for booking. As a Vello employee, you can decide how many hours before the appointment cancellations are still allowed.
Available to your customers 24 / 7
Online booking generates you more customers when you can serve your customers at any time. Majority of the bookings are done outside the regular business hours.
More sales
Our automated marketing combined with online booking is shown to increase bookings and sales as much as 12%.
Safe scheduling
Your booking and customer information is always processed securely (SSL) in Vello. Your bookings can never be viewed by outsiders.
No need to register
With Vello your customers can view your availability and group events as well as make bookings and join the events all without the need for a complicated registration.
Booking reminders
Vello will automatically remind your customer of an approaching appointment. So even your most absent-minded customers will remember to arrive on time.
Locations
Manage the bookings of all of your locations with a single Vello account. You can define the logo, services and employees separately for each location.
Roll call
Vello will create a list of the customers who have booked a group lesson. Due to the roll call feature, you can easily mark the participants on the list.
Multi-language
What language are your customers the most comfortable with? You and your customers can use Vello in English, German, Spanish, French, Finnish or even Estonian.
Send a campaign offer to your customers
Use Vello for your marketing campaigns. One great way of doing this is to add a campaign offer (e.g. a 25% discount for your next booking) directly to the booking confirmation email.
Numbers of participants
You can set the minimum and maximum number of participants for group lessons. When the group is full, Vello will automatically disable new bookings.
Realtime availability
You and your customers can see in real time how many places are still available in each group lesson. You can also hide the number of places, if you wish.
Multiple participants
In Vello, you and your customers can book multiple places at once in a group event (handy when dealing with e.g. the staff of a company or a stag or hen party).
Send invitation
You will receive more participants on your group lessons and events when you send your customers a direct participation link to the event via Vello.
Colors
To help to find the right group event or class you can mark them with different colors. For example green color for beginner classes and advanced in purple.
One-click cancelation
We all can get sick. When that happens you want to let your class or event participants know. With Vello, it's easy one-click action to cancel an event and let the customers know why.