Serial cards and prepaid cards
Serial cards and prepaid cards digitally
without any additional work
With Vello's series cards, loyalty customers can enjoy the price advantages. Experience up to 10 times more sales in a shorter period with the use of series cards.
Activate digital serial cards feature anytime through Vello and your customer can start using it immediately. Plus, by offering serial and gift cards through Vello, you can secure a year's worth of payments in advance and keep your customers committed.
Start selling digital series and gift cards to your customers today with Vello's easy-to-use store. We'll even payout the first sales to you by next Monday.
Please note: You don't need a Vello Booking to start using our serial card store.
Money directly into your bank account
With Vello, your customer can easily purchase and pay for their serial card digitally, at any time of day or night. Our seamless process ensures that your company's multiuse card is delivered to your customer immediately, while you receive payment directly in your bank account in record time.
You can forget about manual accounting
With serial cards, payment is made in advance, which means eliminating the need for bank transfers and completely eradicating any credit loss risks. Plus, you'll free up valuable time by removing manual accounting from your list of responsibilities.
No monthly fee
With Vello Payment service, you can rest easy knowing that there are no fixed monthly fees to worry about. Our payment services are completely risk-free for you to try out! You'll only pay a small fee of 4.5% + $0.25 per completed payment transaction.
Read more about Payments in Vello
Start selling series cards today
What else are you waiting for?
Start selling serial cards today.
Are you ready to take your business to the next level by selling 10-, 5- and 3-visit cards, and one-time cards electronically? With Vello, you can make it happen today. Utilize Vello's card store in your own Vello and start selling in just one minute.
By pre-charging your customers for series and gift cards in Vello, you can reduce the risk to your business and ensure secure payments. Don't wait any longer to streamline your sales process and boost your revenue with Vello.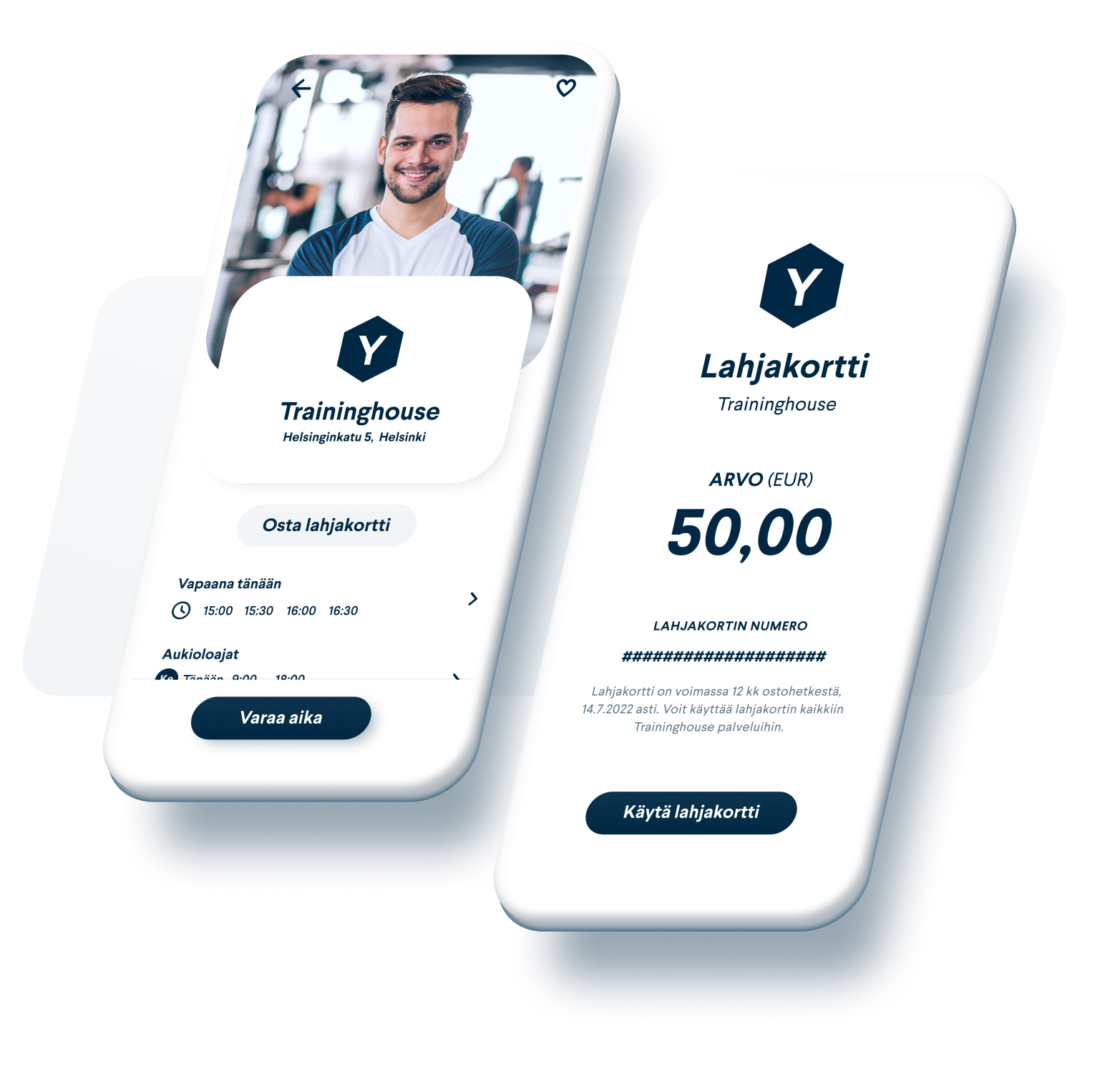 Easier way to sell prepaid cards
Charging of serial cards proves to be a more streamlined approach compared to the traditional handling of paper cards and cash in your establishment. Not only does this enhance your customers' service experience, but it also enables them to purchase a multiuse card at their convenience, 24/7.
Fast payouts
With Vello, you can enjoy lightning-fast payouts that ensure your customer's payment is successful. We ensure there are sufficient funds in your customer's account before deducting the payment and transferring funds to your company's account in record time - sometimes even as early as the following Monday.
The digital serial card does not disappear
When you start selling series cards through Vello, you can kiss goodbye to the hassle of keeping track of physical cards. Our digital serial card is safely stored in Vello, easily accessible by your customer's name. And the best part? Vello will automatically monitor the card's validity and count the number of visits, so you can focus on what's important - your customers.
Bank independent
n Vello, you have the flexibility to add any bank account as your designated destination for payouts. Should your banking needs change in the future, you can easily switch your account by adjusting your Vello settings. Additionally, your customers have the convenience of paying with payment cards from any bank.
All payment cards around the world
Vello offers your customers a wide range of payment options, including Visa, Mastercard, Maestro, American Express, Discover & Diners, and many more. Our payment service is completely independent of any banks, ensuring a smooth and hassle-free experience for both you and your customers.
Safe payments in Vello
At Vello, we have partnered with Stripe, one of the leading payment solution providers in the world, to provide you with secure payment services. Our top priority is ensuring safe transactions for you and your customers, which is why we use 3D Secure protection in all our payments. Trust us to handle your payments with care and efficiency.
Move to Stripe website
All the features of our prepaid cards
Direct link to your prepaid card shop
Boost your sales and take your online kit and gift card store to the next level with effective marketing strategies. Vello has got you covered by providing a direct link to your prepaid card shop, making the purchase process quicker and hassle-free. Don't miss out on the opportunity to increase your revenue.
Prepaid card shop is open 24/7
Increase your revenue stream with the digital card store, where customers can purchase gift cards and series at any time of the day. Don't miss out on sales during off-hours, as a significant portion of card purchases occur outside of regular business hours.
Faster cash flow
With Vello, your company can enjoy a boost in cash flow through the power of committed dollars. By enabling your potential customers to conveniently book reservations and memberships online 24/7, you can receive up to 25% more money in advance.
Digitally without manual work
Once your customer has successfully purchased a serial card, Vello promptly confirms the purchase and delivers a digital serial card straight to their inbox. This automated process means your customer receives their serial card without any manual intervention.
Office-specific serial cards
Does your business operate across multiple locations or collaborate with various entrepreneurs? With Vello, you have the option to assign serial cards to specific locations or individuals, streamlining sales targeting efforts and ensuring precision in your marketing approach.
No registration required
With Vello, your customers can easily pay for bookings, register for events, and purchase prepaid cards without the hassle of having to create an account. This means they won't need to remember any usernames or passwords to use your Vello.
Choose the validity period yourself
You can choose the validity period of the serial cards yourself in Vello. By offering digital serial cards purchased through Vello a longer validity period, you can guide your customers to purchase their serial cards independently through your card store.
How many visits are left?
With Vello, managing your digital series cards and their balance has never been easier. You can now recharge your serial card for multiple visits at once, with any unused times remaining as a balance. Let us take care of the details so you can simply enjoy your experiences hassle-free.
Sale of series card on site
If you're looking to sell a series card in-store or if your customers prefer to pay with alternative options like employment benefits, Vello has got you covered. Your employees can also sell series cards with different payment methods. And the best part? There's no payment commission with this payment method.
Series cards of different levels
Looking for options with varying levels of services? Create gold, silver, and bronze cards with different access to different services! Plus, with Vello serial cards, you have the flexibility to tailor services and package prices to your needs. Pretty handy, right?
Reports
Gain real-time insights into your accounts, sales transactions, and sold cards with Vello's serial and gift card store's extensive reporting, available in both Basic and Premium packages. Stay on top of your business with our powerful monitoring tools.
Checking the payment card
During the payment process, we automatically verify the customer's card information, including the card number, expiration date, security code, and necessary funds. If a charge fails, you can access a comprehensive explanation in Vello.
Secure payment processing
At Vello, we value your peace of mind when it comes to your payment and customer information. That's why we always use encryption (SSL) to keep your data safe and sound. Plus, we take security one step further by not storing any of your card information in Vello. Trust us to prioritize your privacy and security.
Scheduling
With Vello, gift givers can effortlessly schedule the delivery of their gift cards to arrive at the perfect time for the recipient. This convenient feature also caters to companies looking to spread holiday cheer by sending tokens of appreciation to their staff.
Gift cards in an ingenious way
In Vello, you can set the value of gift cards Vello recommends to your customers. By offering default gift cards, you can sell more valuable gift cards. This way, your cash flow will increase, as if by itself. Genius!
Even without a Booking tool
Even if your company isn't taking advantage of Vello's Booking tool or other services, you can still start using the prepaid card shop in Vello.