Certified A1 class patient record system
The most modern
patient record system
Vello is a highly secure and audited A1 class patient record system that revolutionizes the way you manage and process your patients' booking and treatment information.
With Vello, you can effortlessly keep your patient information up-to-date. Also, Vello empowers you to seamlessly access and view patient records stored in Kanta (available in Finland), providing you with a comprehensive overview of their medical history.
Moreover, Vello goes beyond just managing patient records. It equips you with essential customer and treatment volume reports, streamlining your official reporting processes.
Experience the power of Vello and unlock a new level of efficiency and security in managing your patient records.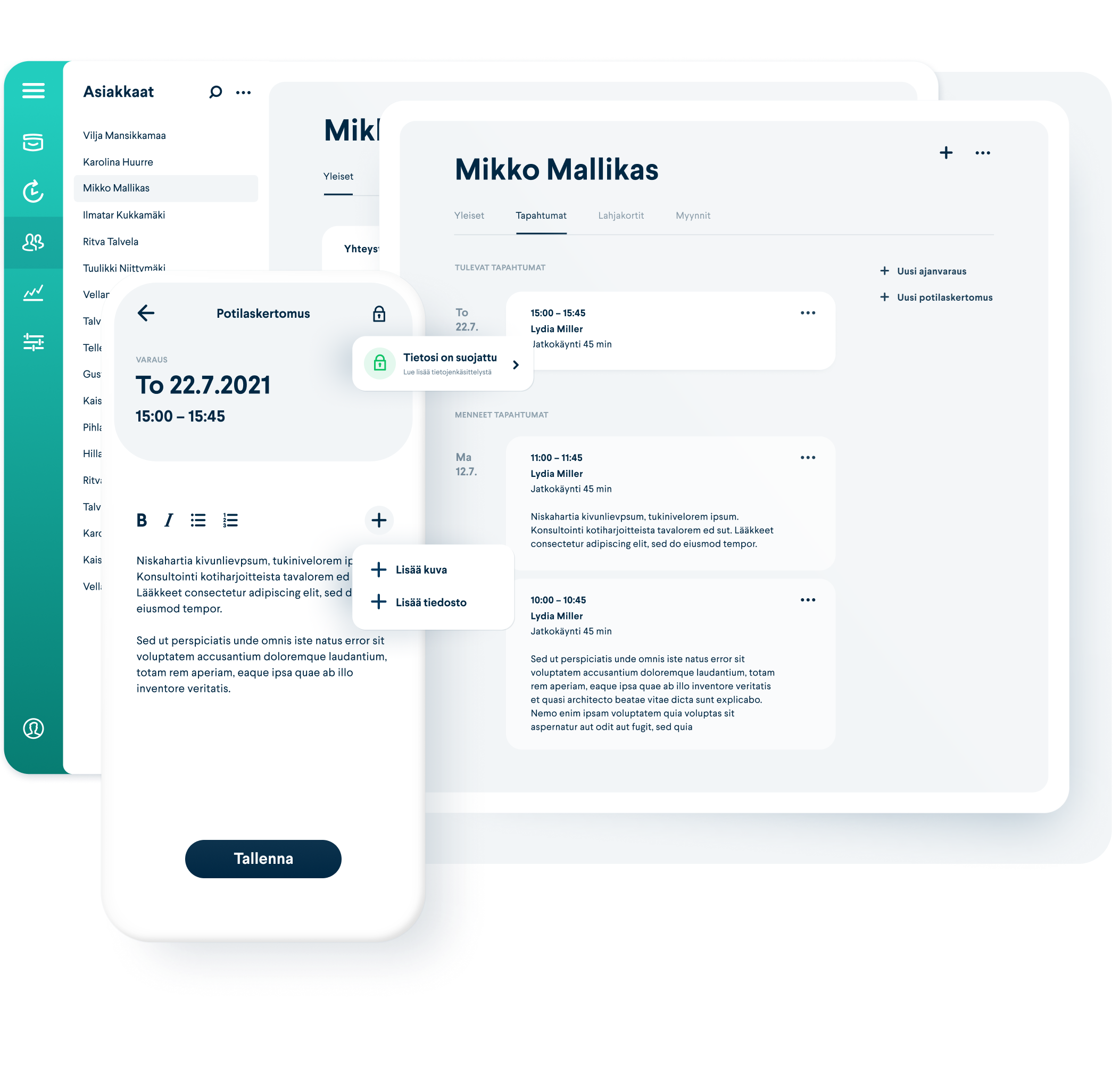 Treatment notes directly in Vello
It is possible to make entries and statements related to patient visits directly in Vello. The entries you select are automatically saved in the Kanta (available in Finland).
Employee-specific rights
Utilize Vello with your team to ensure secure administration of patient information by assigning individual access privileges. This effectively restricts access to customer data and reports, ensuring utmost confidentiality.
Your patient information is safe
At Vello, we prioritize the security and privacy of your appointment and patient data. With SSL encryption, your patient information remains confidential and inaccessible to outsiders. Only authorized employees have access to this data, ensuring its safe handling.
Kanta-integration
Kanta-integration (available in Finland) is only €125 when you order it during the trial period of your Vello account. Later €335.

Do you already use Kanta with another appointment booking system? Switch to using the Vello + Kanta package and you'll get set up for €0.


---
€35 / mo
Price per user. Onboarding includes material, unlocking user rights, a 45-minute consultation and an official onboarding test. The prices do not include the general fee for using Kanta services. Agreement continues until further notice with a six-month notice period.
All features of patient record system of Vello
No need to save
Vello saves the notes you make in the system automatically, so that you don't lose valuable customer information just because you forgot to save the changes.
For all your devices
You can use Vello on all your devices: your computer, tablet and mobile phone. Your customer register is always up-to-date and accessible without hardware or software installations.
Real-time information for everyone
Thanks to the cloud service, the patient information stored in Vello's information system is available to all your employees at the same time. In Vello, your employees can make customer registrations quickly and easily.
Patient is automatically added
Vello takes care of your patient information effortlessly and automatically. When Vello detects an booking for a new patient, our service seamlessly integrates the patient into your information system.
Patient information
Vello captures essential details about the patient, including their contact information and home address. Additionally, Vello records the specific location where the patient has engaged with the business for companies with multiple locations.
Notes and entries
In Vello, you can add memos, free comments and notes to all your customers to support your service work and subsequent appointments. You can make entries per patient and booking.
Patient information + bookings
The patient registry and booking system are seamlessly connected with Vello. Easily find and input customer information when making a booking. Updates or changes to the booking will be seamlessly transferred to the registry.
Search
In Vello, you can search, limit and filter your customer register through the same search field. You can quickly find the customer or member you are looking for from a large group of customers - this means that you can handle your daily routines faster.
Patient booking history
Vello's advanced patient registry not only keeps track of patients' booking history but also provides a comprehensive view of their past bookings, potential cancellations, and future appointments.
Alphabetical index
The start view of Vello's customer register contains all your customers as a directory, sorted alphabetically. You can choose whether you want to sort by customers' first or last name.
Reporting
Vello also covers extensive reporting. Through the reports, you can monitor, among other things, your number of patients and their development, booking events and sales.
Blacklists
In Vello, you can prevent the customer from booking an appointment for your services if you wish. A blocked customer cannot make new appointments or register for group lessons.